Donnie Vincent's Nevada Elk Hunt Gear List (Early Season)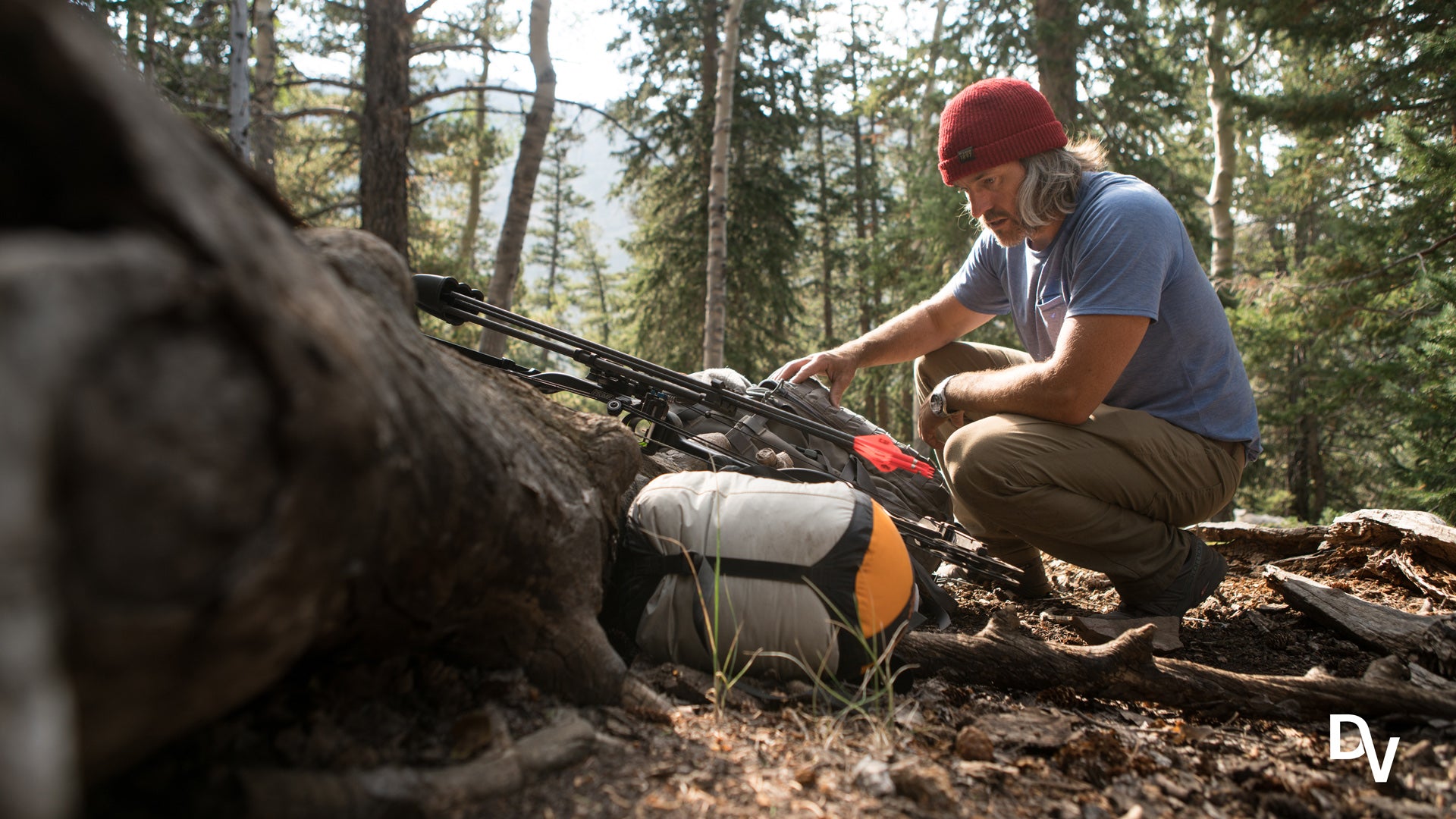 I'm constantly on the search for the right gear. It's incredible what you can accomplish when you are mentally strong or at least know you have the right equipment to deal with multiple unique or bad situations (whether that might be an impromptu shelter or taking a difficult shot from your knees). Often I get asked about gear and I love that. I love that people are on a constant search for what works for them. So with that in mind, let's talk a little about the gear that I brought on my early season elk hunt in Nevada. 

SHELTERS
Notes: No surprise here, I'm in love with my Kifaru shelters.  Light, they shed wind like a Ferrari...and not having a floor in your shelter is heaven on earth.  They don't fit every scenario, so make good decisions...but they fit 90% of camping situations.
SLEEPING
ThermARest Z-lite Sleeping Pad (on top of cheap, low to the ground style cots in base camp) 


ThermARest Neo-Air Sleeping Pad (for spike camping) 

Marmot (30 Degree) Down Sleeping Bag 

Quixote Down Pillow & Cotton Pillow Case 


Sea to Summit Compression Sacks 
Notes: Mind you, base camp isn't too far from the road. The ThermARest Neo-Air for me is too narrow (I need to do a little research myself) but it keeps you toasty and is incredibly rugged. As far as sleeping bags go, this isn't an endorsement necessarily, but I've been using this particular Marmot (30 degree) down bag and one other Marmot bag since 1996.  Every year I threaten to go shopping for a new bag and every year I wake up in my Marmots. The Quixote cotton pillow case is one of the few cotton items that I bring. I learned a long ago that the weight and bulk of a pillow is well worth it (plus it cinch's right down in my Sea to Summit compression sack). I've been using this one pillow for the last decade or so, kind of gross when you think about it, but also pretty damn cool.  
COOKING
MSR Reactor Stove

Plastic long handled spoons (find them at REI)

A couple cheap BIC lighters

Klean Kanteen Stainless Water Bottle (1 Liter)

MSR Dromedary (10 L) Water Bags

Waterproof Long Burning Matches
 

Notes: If you don't own the MSR Reactor Stove, go buy one. Flying fuel bottles around the world can be slightly complicated, meaning you have to find fuel after arriving (sometimes can be a problem in Canada or Alaska). However, anywhere in the lower 48, it's pretty slick. This stove will remain in my kit until further notice...in a word, rad! TIP: Bring more than enough cheap BIC lighters. Every person in your party should have one or two, plus waterproof long burning matches. As far as drinking and cooking water goes on this trip, there is very little water up top of the mountains where we are hunting here in Nevada so we must carry in our water. To accomplish this I use the MSR Dromedary (10L) bags. I absolutely love these bags. I wish we weren't being limited by highest water, but it's a reality when hunting mountains and these bags are a must. 
HUNTING GEAR 
Prime Centergy Hybrid 29.5"/70# Compound Bow  
Spot Hogg "Hogg Father" Single Pin (actually their new double pin) Sight
Hamskea Pro-Hunter Micro-Tune Arrow Rest
Tight Spot 7-Arrow Quiver
B-Stinger Stabilizer 12" Back Bar
Element 250 Spine Arrows 
Cutthroat Broadheads 200gr, Single Bevel
Carter Honey 2 Release Aid 
Kifaru Duplex Timberline Pack
Kifaru AMR Pack 
Kifaru 22 Mag Pack 
Kifaru Escape & Evade Pack 
Leica Rangefinder 
Maven Optics (Binos & Spotting Scope) 
Gitzo Carbon Tripod & Fluid Head (For Spotting Scope) 
Thomas Robinson of Maine Knife
Knife Sharpener (Packable diamond "stone")
 

NOTES: My first hunt with the Prime Centergy Hybrid. Overall, great bow, with genius engineering. (See my facebook review about this bow for more details).

This hunt calls for tons of backpack usage and Kifaru is my go-to brand. They make excellent packs, light and super durable with lots of fun features. We have several here, using and testing them for both hunting and camera gear. Amazing, amazing packs.

Bow components: Rest: My Hamskea rests are unquestionably the best arrow rests for what I do...takes a beating all while staying accurate as hell. Quiver: Tight Spot, the new 7 arrow quiver is really, really good.  I still don't shoot with my quiver on my bow, but the Tight Spot and the Quivilizer (looks funny but is pretty kickass) are my hands down favorites. Stabilizer: B-Stinger, right now I'm using an old 12" back bar and a few ounces of weight.  Also, one of their handy dandy machined mounting systems...still tinkering to find the balance that I'm looking for though.  I also like Doinker stabilizers. I think they have great options for true balance. Arrows: Element (250 spine), I'm still relatively new to this arrow but they are accurate and well made. I stopped shooting Grizzly Stiks over a year ago and since then, I've been on a serious arrow pilgrimage if you will. Broadheads: Cutthroat 200g broadheads, single bevel, solid one piece design and sharp!  It just might be the last broadheads you ever shoot...and I'm positive that you couldn't find nicer people to represent archery. Release aid: Carter Honey 2.  I have several options with me, but the Honey 2 has been my go-to so far.  Hinge style releases increase my accuracy and confidence when I shoot them honestly. Optics: Maven Optics. Don't spend more money on optics than you have to, but buy the best optics you can afford. Bottomline you owe it to yourself to shop Maven Optics. Knives: Thomas Robinson Knives of Maine. Great knife, nice of him to share his craft (custom made for Sicmanta's Director of Photography, William Altman). Also, I'm a big fan of Benchmade Knives, handy, well thought out and wonderfully useful. 

 
CLOTHING
NOTES: SOCKS: My Darn Tough socks are made in Vermont by a family owned and operated business.  Every single pair of socks that I own are Darn Tough. I wear them in everyday life, when I'm working out and hunting. Cool to note that if you wear a hole in them, just send them back and you'll have a brand new pair within days. Great product, great company. PANTS: The North Face pants, odd I know, but I found a kickass pair of casual wear pants that I love. I bought them to change into after hunting, but I've been hunting in them for 2 weeks now.  I'm also testing some pants from Kuhl, and Arcteryx. I'm not used to hunting in hot weather so I had to do some homework and try new things. SHOES: Salomon Speedcross 4 hiking shoes: I absolutely love these shoes. I've trained in them, and hunted in Australia with them last July, and now for two weeks in the mountains of Nevada. I also brought my Lowa Mountain Experts for packing out an elk, my first load would be in the Salomon's then I'd change into my Lowa's, this is only made possible because of the extensive road system here.  
ELECTRONICS
Garmin GPS (I need to get Garmin's new inReach/GPS units)
Delorme inReach Personal Locator Device 
OTHER 
Otter Box Venture 45 and 65 Coolers.   
NOTES: These coolers made this hunt possible.  They're American made and actual capacity. Injection molded for an exacting construction.  These coolers out perform any cooler that I've ever used, handily.  Just flip your phone over, yup, I know, you've been trusting them for years.  If you're honest with yourself while shopping for a serious cooler you'll be buying an Otterbox Venture.  Great company, great people, great product."

Any questions? Post them below or comment on the post on Facebook/Instagram. I'll try to answer as many as I can. Thanks guys!
100 Responses
Leave a comment