Rare Footage: Dingoes Hunting Water Buffalo in Australia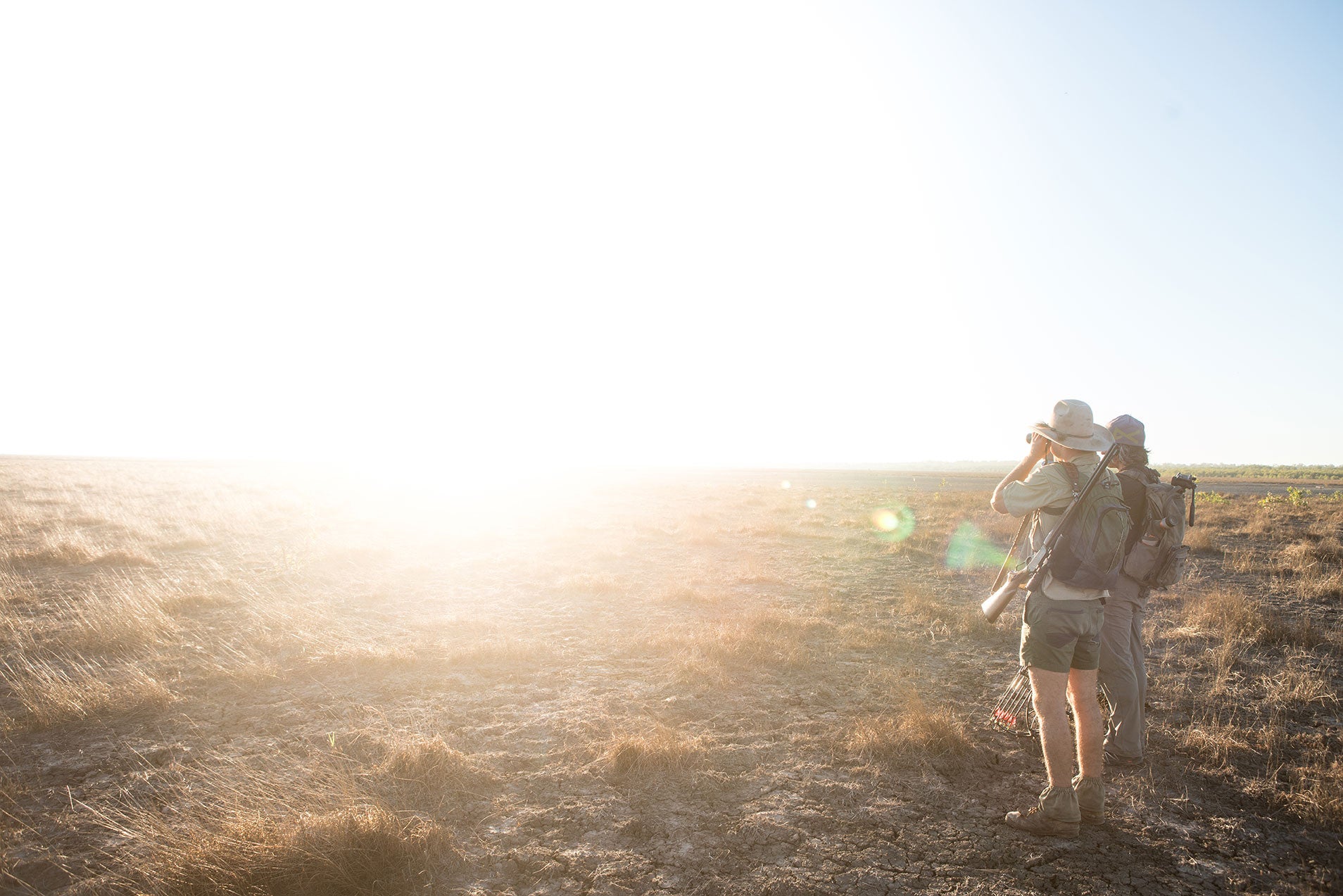 Often times when you are in the forest or jungle, you'd swear you were all alone.  Aside from the birds and the insects you hear, you'd promise there wasn't a beast for miles…this was not one of those times.
On this morning, it was hot.  It might as well have been a movie set, cracked mud from a long dry season, little breeze to speak of, hardly enough anyway that you'd think we were walking along the Timor Sea in Northern Australia and waves of buffalo walking on the flood plains so prevalent and perfect that they looked like a mirage. 
There wasn't much being said this morning.  Despite being early, it was already too hot.  And while we were hunting and surrounded by buffalo it didn't feel right.  Nick, my young pen pal and new-found friend walked quietly with his rifle heavy in hand and I followed him like a dope looking at his short leather boots and wondered where you find such a shoe, when suddenly a pack of dingoes exploded from the bush!
The dingoes were after a young calf amongst a smallish herd of cows and young bulls.  I'm sure that we weren't the first people to witness such a hunt, but I'm not sure that it has been filmed before.  The dingoes were relentless for that young calf, but the cows were equally as relentless and their bellows called for reinforcements as larger, older bulls charged in to add stability and fight to the now growing herd. 
In a few moments it was over, but not before we were witness to a well-orchestrated hunt that ended with the dogs stampeding the entire buffalo herd into an honest arm's length. 
If you contemplate time or presence at all, it's quite odd that we were there in the perfect sliver of time, in that passing moment.  Had we stayed at breakfast for a few more minutes, or forgot something back at camp and had to run back quick, a single minute in either direction and we miss one of the greatest spectacles I've ever witnessed.  Fantastic things happen in fantastic places, right? 
It's often that I find myself entranced in awe by what I get to see and experience in the wild.  It's not always caught on film.  In fact getting it on film falls in the category of rare, but when it all comes together it's wonderfully rewarding to share.   
The Crew-
No one had to say a word, everyone just stayed seated as the herd of buffalo stampeded directly at us.  We were all in whether the herd turned at the last second or not.  I'm proud of the crew, and want to thank them as they always do truly awe-inspiring work.    They are as follows; Kyle Nickolite, William Altman and Cody Altizer.
100 Responses
Leave a comment